When it comes to throwing birthday parties in Bangalore, Talentworld isn't just another fish in the sea—they're the cream of the crop, the magicians of merriment!
Meet Talentworld, a one-stop-shop event management company that knows a thing or two about birthdays. Born in 1997, Talentworld has been in the biz long enough to know how to throw a party that's anything but ordinary. From dazzling magic shows to heart-thumping DJ nights, they've got it all under one roof.
So, what's the secret sauce? Well, hold your horses! We're about to peel back the curtain and show you why Talentworld is the talk of the town and the go-to choice for birthday celebrations in the Garden City of Bangalore.
Why Bangalore is the Perfect Playground for Birthday Parties
Bangalore! The Silicon Valley of India, where tradition meets technology, and the old and new coexist in fantastic harmony. From its leafy lanes to bustling tech parks, this city offers a variety of backdrops perfect for any celebration, especially birthdays.
Let's not forget the variety of venues on offer. Want a birthday bash in a garden? Done. A rooftop extravaganza? You got it. With so many options to choose from, it's no wonder people say, "In Bangalore, every day is a good day for a party!"
So, what sets Bangalore apart when it comes to hosting birthdays? Could it be the city's blend of tradition and modernity? Or is it the endless variety of exciting venues? Perhaps it's something in the air that says "Let's celebrate!" Whatever it is, one thing's for sure—Bangalore knows how to party!
---
The Talentworld Difference: An Overview
We've painted a vivid picture of Bangalore, but what about Talentworld, the virtuoso behind countless memorable birthdays? Let's dig in, shall we?
Founded by Uday, a Jack of all trades and master of event management, Talentworld has been redefining celebrations for more than two decades. What started as a modest venture has blossomed into a full-fledged extravaganza-maker that specializes in—you guessed it—birthday parties!
From balloon decorations that'll make your eyes pop to DJ nights that get your feet tapping, Talentworld has got your back. And it's not just about the glitz and glamour. Talentworld is the full package, providing sound, lighting, and other technical knick-knacks to make your day go off without a hitch.
Alright folks, buckle up! We're about to dive deep into the magic that makes a Talentworld birthday bash in Bangalore absolutely unforgettable!
Magic Shows: The Spellbinding Attractions of Talentworld
Prepare to gasp, laugh, and be thoroughly enchanted, because Talentworld's magic shows are no mere child's play. Skilled magicians weave a spell of awe and wonder, leaving the audience—both young and old—transfixed. Remember little Urvashi's 7th birthday last summer? The one where the magician pulled a rabbit out of a hat? Yes, that was a Talentworld classic!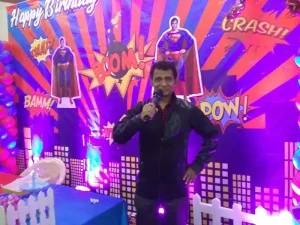 Ever wondered what makes magic shows the heart and soul of Talentworld's birthday parties in Bangalore? It's simple. They understand that a good magic show does more than just entertain; it creates a sense of wonder and excitement that lingers long after the party's over.
Get Your Game On: Gaming Activities that Wow the Little Ones
Let's switch gears a bit. Talentworld's array of games are just as captivating, tailored to keep the kiddos buzzing with excitement. We're not talking about your "run-of-the-mill" activities here, folks. Talentworld has breathed new life into classics, adding a creative twist that leaves everyone clamouring for more.
From musical chairs to scavenger hunts, Talentworld has turned classic games into unforgettable experiences. How about a musical chairs version where the chairs are mini-thrones? Or a scavenger hunt that's set up like a mini-adventure quest? It's fun and engaging, and trust us, it's a surefire hit with the tots.
Themes to Die For- Setting the Mood Right for Birthday Parties in Bangalore
And now, for the pièce de résistance—the themes! Talentworld knows that a good theme can set the stage for an extraordinary birthday bash. Whether your child is into Disney princesses or Marvel superheroes, they've got you covered.
Why Themed Birthday Parties in Bangalore are a Talentworld Specialty: It's more than just decorations. It's about creating a fantastical world where kids can be whoever they want to be, even if it's just for a day. And it's done with such meticulous attention to detail, that you'd think a fairy godmother was involved!
Cater to the Tummy: The Food Fiesta
You know the saying, "The way to a person's heart is through their stomach?" Talentworld has taken this adage to a whole new level with its scrumptious spread of finger-licking good treats. Whether it's pani puri stalls or mini pizzas, they've got it all.
We're not just talking about icing on the cake here! Quality and hygiene are top on the menu, too. The Talentworld team ensures that every morsel is not just delicious but also safe and clean.
---
Tick-Tock Goes the Clock: Time Management Mastery
Nobody likes a dragged-out party or, worse, one where the magic show starts just as folks are leaving. Talentworld knows the value of impeccable timing. They schedule activities down to the last detail, ensuring a seamless flow.
How does Talentworld make every minute count during birthday parties in Bangalore? Simple! With years of experience under their belt, they have the skill of synchronizing joy with the clock, making sure there's never a dull moment.
Bang for Your Buck: Cost-Effectiveness without Cutting Corners
Let's talk moolah. Talentworld offers packages that make you exclaim, "Who says you can't have your cake and eat it too?" Whether you're going for a budget-friendly bash or an all-out extravaganza, they've got something for every pocket without skimping on the fun or quality.
Talentworld's Golden Rule: Client Satisfaction
The folks at Talentworld aim to exceed expectations, not just meet them. Safety for the kiddos is paramount. From employing background-checked staff to using child-safe materials, they've got all bases covered.
The Cherry on Top: How Talentworld Ensures Smiles at Every Birthday Party in Bangalore: It's all about going the extra mile. The ultimate aim? An ear-to-ear grin on your child's face and a deep sense of satisfaction for you.
---
Conclusion
So, why is Talentworld the crème de la crème for birthday parties in Bangalore? It's their meticulous attention to detail, their flexibility to adapt to various budgets, and above all, their unwavering focus on client satisfaction.
Ready to blow out the candles and make a wish? With Talentworld, consider it done!
Convinced? Why wait? Dial Talentworld right away for your next birthday extravaganza. Follow us on social media to get a glimpse of our magic, or shoot an email if that's more your style. Your dream birthday bash is just a click or call away!