When it comes to team building activities in Bangalore, Talentworld isn't just another player in the game—they're the kingpin. But why? What's cooking in Talentworld's kitchen that has corporate folks in Bangalore so enamored?
Talentworld specializes in not just any team building activities, but ones that are custom-tailored to engage, inspire, and elevate your teams. With a medley of indoor and outdoor activities, Talentworld adds a dash of Bangalorean spice to the age-old concept of teamwork.
Fasten your seat belts, folks! We're on a journey to unravel the closely guarded secrets behind Talentworld's acclaimed team building activities that are shaking up the corporate stratosphere in Namma Bangalore.
The Bangalore Advantage in Team Building Activities
The Unique Blend of Corporate Culture: Ah, Bangalore—the city where traditional business values meet modern innovation. It's a bustling melting pot of corporate cultures, making it a hotbed for team building activities. From tech parks to lush gardens, the city offers an array of backdrops to learn, laugh, and lead.
Question: So, here's the million-dollar question: What makes Bangalore a prime location for effective team building activities? Is it the weather, the vibe, or something else in the air? We think it's a bit of everything, rolled into one electric atmosphere that's ripe for Talentworld's transformative team building exercises.
A Brief History: Talentworld's Journey
From Humble Beginnings to Leaders: Talentworld didn't just fall from the sky; it climbed the ladder of success one rung at a time. Starting off as a small startup in the crowded lanes of Bangalore, it has blossomed into a market leader that stands head and shoulders above the competition.
Intrigued much? You should be. Stick around, because we're about to peel the curtain back and spill the chai on what makes Talentworld's team building activities in Bangalore a cut above the rest. Get ready to take notes!
Break the Ice, Not the Bank: Cost-Effective Team Building
Introduction to Affordable Activities: Let's cut to the chase—team building activities don't have to cost an arm and a leg. Talentworld knows that, and it's why they've got something for every budget.
Real-World Examples:
Group Exercises for Adults: Unlock Hidden Synergy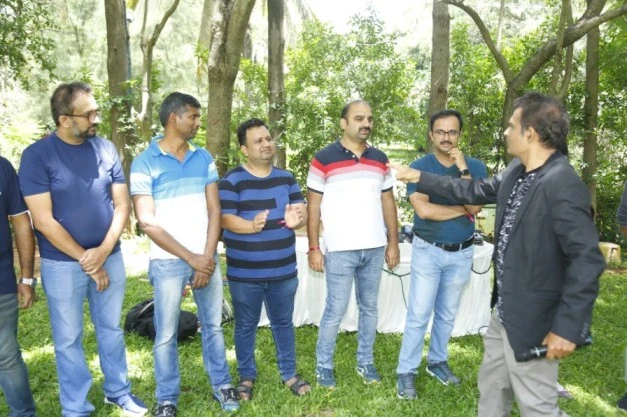 Skip the routine office chatter; let Talentworld's group exercises break the ice for you. It's not kid's play; it's strategic fun that demands you to know your team beyond the org chart. From laugh-out-loud moments to a-ha revelations, discover the hidden facets of your teammates while unearthing new, creative solutions to work challenges.
Pull the Rope/Tug of War: The Team's Litmus Test
Think Tug of War is just about muscle? Think again. This age-old game is a crash course in teamwork and strategy. It's where everyone, regardless of age or size, pulls their weight—literally. Synchronize your efforts, and you're not just tugging a rope; you're uniting for a common cause. It's a tangible way to feel the collective power of a cohesive team.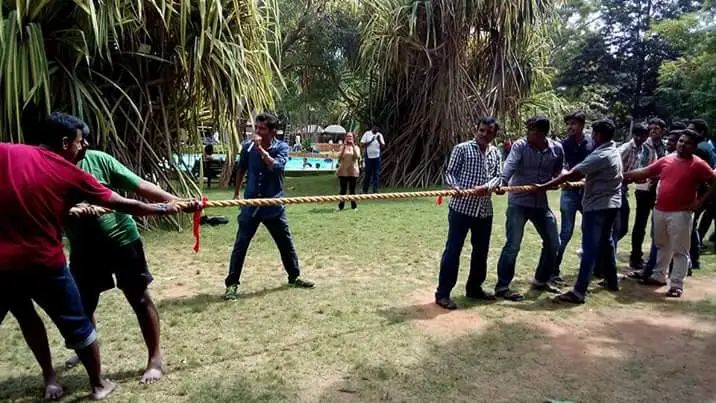 Question: How does Talentworld offer top-tier team building activities in Bangalore without causing a dent in your wallet? Short answer: smart planning and flexible options. Long answer: keep reading!
More than Fun and Games: Learning and Development
Why It's Not Just Play: Don't be fooled; these aren't your run-of-the-mill games. Talentworld uses the power of play to educate. Team-building activities here are cleverly designed as educational tools.
Examples and Anecdotes: Remember the time when Ravi from accounting became the star of the show during a mock 'Shark Tank'? Moments like these change team dynamics for the better, all thanks to Talentworld.
Indoor Vs. Outdoor: Choose Your Battlefield
Indoor Activities Galore: From escape rooms to trivia challenges, Talentworld's indoor activities are a hit. Perfect for those monsoon months in Bangalore!
Outdoor Adventures: When the sun's out, Talentworld's outdoor activities shine. Nature trails, sports day, and more.
Sub-heading: How Talentworld Masters Both Terrains: Whether you're an indoor cat or an outdoor junkie, Talentworld's got you covered.
Metrics that Matter: Evaluating Team Building Success
Introduction to Key KPIs: Success isn't nebulous here; Talentworld tracks the ROI of your team building activities with key performance indicators.
The 'Wow' Factor: Talentworld's Unique Offerings
Unconventional Activities: Ever considered a cooking challenge as a team-building activity? What about a drum circle? Talentworld thinks outside the box and brings you the most unique activities.
Question: Ever thought of drum circles or cooking challenges as team building activities? You will now!
Safety First: Ensuring a Risk-Free Environment
Safety Protocols: Talentworld ensures smooth sailing with top-notch safety measures. No room for hiccups here.
Conclusion
Summation of Unique Selling Points: By now, you should know that Talentworld is your one-stop-shop for phenomenal team building activities in Bangalore. From cost-effectiveness to unique offerings, they tick all the boxes.
Closing Hook: Ready to take your team from good to great? With Talentworld, you're already halfway there. What are you waiting for?
Get in Touch: Convinced yet? Don't wait; give Talentworld a buzz for your next team-building extravaganza in Bangalore.
Social Media and Contact Info: Slide into our DMs on Instagram, shoot us an email, or give us an old-fashioned phone call. We're all ears!
---
There you go—a bird's-eye view of why Talentworld should be your go-to for team building activities in Bangalore. Pack your bags, because an unforgettable team-building journey awaits!